Nur Lyana, Baharin (2011) The Impact of Management Practices and Employee Involvement on Organization Financial Performance: The Cases of GLCs in Malaysia. Masters thesis, Universiti Utara Malaysia.
PDF




Nur_Lyana_Baharin.pdf


Restricted to Registered users only
Download (1MB)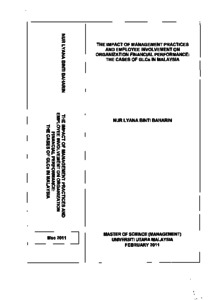 Preview
PDF




1.Nur_Lyana_Baharin.pdf


Download (209kB) | Preview
Abstract
In Malaysia, Government-Linked Companies (GLCs) are state-owned organization. GLCs contribute approximately 16-18% of the nation's gross capital formation and 9-10% of national Gross Domestic Product (GDP). GLCs are vital to the economy, thus an understanding of the changes that this type of organization is going through is definitely
important and necessitate intensive research. Hence, this study intends to investigate a particular issue with regard to this industry which is quality management and in which
more specifically, this study will explore the relationship between management practices and employee involvement towards organization financial performance in three GLCs
namely; TNB, TM and Maybank. The questionnaires are sent to executives in three GLCs within the vicinity of Klang Valley and a total of 282 questionnaires were analyzed using Statistical Package for Social Sciences (SPSS). The results indicated that management practices and employee involvement are positively correlated with organization financial performance. The multiple regression result shows that both independent variables are a significant predictor for organization financial performance. The recommendation here is that management should seriously look into the role of management practices and employee involvement towards the success of financial performance.
Actions (login required)