Kristina, Diah (2011) A Genre Analysis of Sales Promotion Letters and Company Profiles in an Indonesian Batik Industry. PhD. thesis, Universiti Utara Malaysia.
PDF




Diah_Kristina.pdf


Restricted to Registered users only
Download (4MB)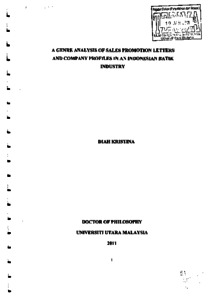 Preview
PDF




1.Diah_Kristina.pdf


Download (380kB) | Preview
Abstract
This study explored sales promotion letters and company profiles of batik from two big batik companies in Solo, Central Java, Indonesia. Two types of data were used namely, words, phrases, and clauses taken from the company profiles and sales promotion letters of batik written in Bahasa Indonesia and the transcribed data obtained from in-depth interviews with the text writers and buyers. The research used theories of genre analysis focusing on patterns of rhetorical organization and genre-specific language features. In terms of data analysis, this study employed the multi-dimensional and multi-perspective model of analysis focusing on textual, socio-cognitive and ethnographic aspects of the texts. Based on the findings, this study arrives at five conclusions. Firstly, the strong influence of Javanese culture has made the underlying intention of getting the profit to be less explicitly stated. Secondly, the textual analysis and the in-depth interviews support the view that company profiles of batik had been effectively used to create a favorable image of the company. Thirdly, the most distinctive feature that differentiated establishing credentials in English and that of the Indonesian, especially in the batik business context, had been the use of moral obligation to preserve the native culture. Fourthly, the chemistry between writers and readers of sales promotion letters and company profiles of batik built a strong foundation for mutual understanding and thus paved the way for making purchases. Finally, this study has shown how the culture of the discourse community in particular, and the culture of the wider community in general contribute to the framing and formatting of sales promotion letters and company profiles of batik in terms of lexico-grammar, cognitive structuring, intertextuality and interdiscursivity.
Actions (login required)