Shirley, Salimun (2011) Basic Components in Creating Contents for Moral Subject Using Digital Storytelling: A Conceptual Model. Masters thesis, Universiti Utara Malaysia.
PDF




Shirley_Salimun.pdf


Restricted to Registered users only
Download (7MB)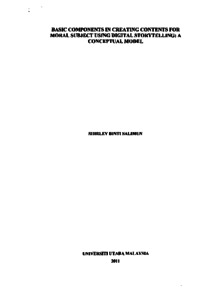 Preview
PDF




1.Shirley_Salimun.pdf


Download (243kB) | Preview
Abstract
This research intends to develop a conceptual model that illustrates how multimedia approach could be used to enhance teaching and learning of moral subject in secondary school. A prototype will be developed to demonstrate how the content of moral subject in secondary school could be transferred into multimedia form to enhance the teaching and learning approach. The prototype is developed in a form of digital storytelling and the content is based on the syllabus and information of moral education in secondary school. The conceptual model are constructed based on the moral education contents and validation by the moral education teachers. Based on the conceptual model, digital storytelling are constructed. The effectiveness of the digital storytelling will be test on the student and will be evaluated based on the distributed questionnaire. At the end of this research, the finding of research, limitation and future work will be discussed.
Actions (login required)