., Shi Xue (2011) Brain Drain in China: Intention to Stay in Malaysia Among China's Students in Universiti Utara Malaysia (UUM). Masters thesis, Universiti Utara Malaysia.
PDF




Shi_Xue.pdf


Restricted to Registered users only
Download (697kB)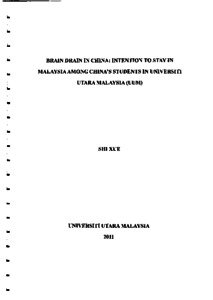 Preview
PDF




1.Shi_Xue.pdf


Download (207kB) | Preview
Abstract
Intention to stay abroad is usually seen around the world by different groups of people. One major case of the intention to stay happens when students from one country studying in another country decide not to return home after their studies. This issue also leads to the concept of "brain drain" as a phenomenon that people of a high level of skills, qualifications, and competence, leave their countries and emigrate. In this study, we examined the factors affecting international students' intention to stay in their host countries in a sample of 189 China's students who came to study in UUM of Malaysia. The results support a three-fold model of factors that influenced this intention. Students' perceptions of ethnic differences and labor markets, their adjustment process to the host country, and their family ties in host and home countries all affect their intention to stay.
Actions (login required)