Putro, Yudhan Nuswantoro (2008) The Indonesian Undergraduate Students' Perceptions Of Career Choice In Small And Medium-Sized Enterprises And Multinational Corporations. Masters thesis, Universiti Utara Malaysia.
PDF




Yudhan_Nuswantoro_Putro.pdf


Restricted to Registered users only
Download (6MB)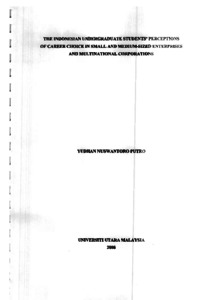 Preview
PDF




Yudhan_Nuswantoro_Putro.pdf


Download (1MB) | Preview
Abstract
The main purpose of this study was to investigate the perceptions in career choice whether in Small and Medium-sized Enterprises (SMEs) and Multinational Corporations (MNCs) based on sample of Indonesian undergraduate students. The main aim of this study was to determine if gender and academic background influenced these perceptions. In addition, this study tried to identify several job factors that influenced their choice.
A sample of 150 Indonesian undergraduate students was used by distributed a set of questionnaire. An original version of questionnaire from previous research conducted by Teo and Poon (1994) was used. This questionnaire was pre-tested
before distributed to the main respondent. The main purpose of pre-testing was to determine the understandability of the items in the survey questionnaire and to identify potential weaknesses and problems in the data collection and analysis. The findings of the study indicated that from ten academic majors surveyed, all
students preferred working in MNCs than SMEs. Three job factors that significantly influenced students' perceptions working in SMEs are responsibility given (RG), and involvement in decision making(IDM). While pay, working
conditions (WC), managerial quality and relationships (MQR), and responsibility given (RG) were significantly influenced students' working in MNCs.
Actions (login required)