Samad, Almahdi Abobaker Abdul (2011) A Study on Relationship Between Accounting Information System Adoption and Organizational Change Readiness Commitment and Strategy in Libya. Masters thesis, Universiti Utara Malaysia.
PDF




Almahdi_Abobaker_Abdul_Samad.pdf


Restricted to Registered users only
Download (591kB)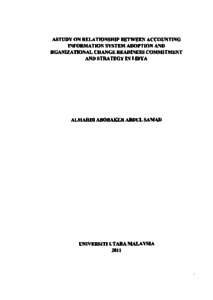 Preview
PDF




1.Almahdi_Abobaker_Abdul_Samad.pdf


Download (167kB) | Preview
Abstract
Information has become a key resource of most organisations, economies, and societies. Indeed, an organisation's basis for competition has changed from tangible products to intangible information. It is therefore, this study attempts to elicit the relationship between accounting information system and organizational change among 25 companies in the country of Libya. The descriptive research design used a quantitative instrument to accomplish the objectives of the study, employing an adopted questionnaire as an instrument. However, the analysis of the results indicated that most of the respondents agreed on that commitment to change have the positive impact on AIS. In addition, a positive correlation existed between the respondents' gender and their education level. The results further revealed a negative correlation between the respondents' working experience and their attitudes or commitment. A major conclusion of the study was that, Internet Technology adoption among Libyan users still as main focus to predict the success of the business and activities in the organizations in the dynamic environment.
Actions (login required)