Mohammad Harith, Amlus (2011) Influencing Factors of Manufacturing Capabilities Development Among Local Manufacturers in Northern Malaysia. Masters thesis, Universiti Utara Malaysia.
PDF




Mohammad_Harith_Amlus.pdf


Restricted to Registered users only
Download (1MB)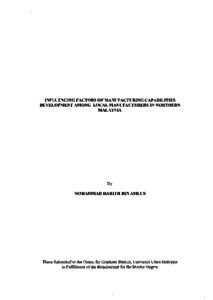 Preview
PDF




1.Mohammad_Harith_Amlus.pdf


Download (152kB) | Preview
Abstract
Generally, manufacturing capability is the important factor in running and developing business. Hence, this research is aimed to identifying the relationships between factors that to make sure the companies can survive among companies across industries in the northern region of Malaysia. Those identified factors are manufacturing practices, knowledge sharing and manufacturing capabilities. Other than that, the training factor moderated and enhanced companies in win to the others competitors. Through the email survey, a total of 89 companies representing various industries had responded. The hypotheses involved were tested using correlation and regression techniques. The result of the study support all the hypotheses. The multiple regression analysis indicate that there are significant relationship among the factors on each criteria to manufacturing capabilities. While hierarchical multiple regression analysis was carried out to test the role of moderating in the relationship between independent variables with dependent variables. The results of the hierarchical multiple regression indicate that training moderated the relationship between manufacturing practices, knowledge sharing to manufacturing capabilities. It is believed that results of this study will be beneficial for share holders and directors of companies to apply these manufacturing capabilities.
Actions (login required)