Che Su, Ibrahim (2001) Keberkesanan Program Keselamatan Jalanraya Di Kalangan Penunggang Motosikal Di Daerah Baling, Kedah. Masters thesis, Universiti Utara Malaysia.
PDF




Che_Su_binti_Ibrahim,_2000.pdf


Restricted to Registered users only
Download (3MB)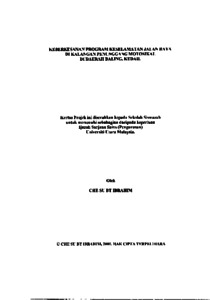 Preview
PDF




1.Che_Su_binti_Ibrahim,_2000.pdf


Download (461kB) | Preview
Abstract
The problem of road accidents in this country is very serious and it has achieved an alarming rate especially among the motorcyclists and pillion rider in the rural areas. The aim of this research was to determine the effectiveness of the road safety campaigns taken by the authorities to the road users. In addition, the research also aimed at identifying the level of motor cyclist riding skills, the users' attitudes and demographical factors of the teenagers who were the high risk group. This research
utilised the evaluation Model of Context, Input, Process and Product (CIPP) but with more attention on the Process and Product components in order to assess the
effectiveness and results of the implementation of the road safety programmes among the motorcyclists. This descriptive research involved 264 secondary school
students in the Baling District who were either motorcyclists or pillion riders. Interviews also involved 6 respondents, 2 teachers, 2 Kedah Traffic Police officers
and 2 members of the State Road Safety Council of Kedah. The results of the researh showed that the Road Safety Campaign was effective and reached the intended target group. However, riding skills of the motorcyclists were low as most of them did not have valid licence. This means that many of them did not really know the traffic rules and regulations even though they had the experience in riding motorcycles. The explanation for this contradictory situation was that most of the motor cyclists had the attitude of not giving due importance to their own safety and tend not to abide the traffic regulations. It is hope that the results of the research can add to the available information, and the suggestions can be used by various
authorities to make decisions and to take appropriate actions to lessen this problem on road accidents.
Actions (login required)