Mohter, Ghazali (2010) A Study on the Perception of E-Business Adoption Among Retailing Firms in Perlis. Masters thesis, Universiti Utara Malaysia.
PDF




Mohter_Hj_Ghazali.pdf


Restricted to Registered users only
Download (374kB) | Request a copy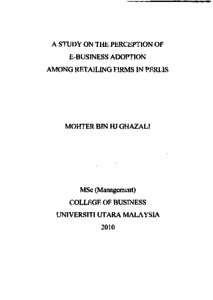 Preview
PDF




1.Mohter_Hj_Ghazali.pdf


Download (99kB) | Preview
Abstract
The purpose of this study is to characterize the attitudes of owners and managers of retailing firms toward e-business. More precisely, the present study attempted to assess the perceptions of retailers particularly owners and managers of retailing firms concerning the adoption of e-business. The research examined the perception of retailing firms on adopting e-business especially their perception on driving factors for adoption, the area of adoption, and the problems accompanying adoption. The sample for this study comprised retailing firms in Kangar town (Perlis State Capital). The finding shows that the normative pressure and customer orientation in particular were perceived to be important in adopting e-business. In terms of the areas of adoption, it appears that the surveyed firms' perceived e-business was to be used for communication purposes especially in the case of outbound communications. On the whole the findings from this study seemed to concur with the findings from earlier studies though the setting and respondents were different.
Actions (login required)