Chong, Chee Min (2001) An Interactive Online Shopping System For Music Village. Masters thesis, Universiti Utara Malaysia.
PDF




Chong_Chee_Min,_2001.pdf


Restricted to Registered users only
Download (5MB)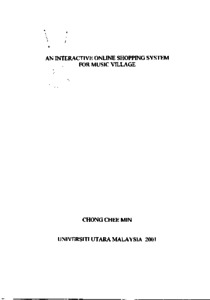 Preview
PDF




1.Chong_Chee_Min,_2001.pdf


Download (409kB) | Preview
Abstract
The purpose of this project is to develop an interactive online shopping system for the Music Village. Music Village is a specialty music store, one of the retailer companies that carry a narrow product line with a deep assortment within that line that is Compact Disk Selling Store. The reasons to develop the online system for the company are that Internet has become an enormously popular marketing paradigm that facilitates anything consumers want to shop for or buy on the Web. Through the Internet online system; the market of the company can be expanding over the world. The management can get the customers feedback and requirement quickly, the customers feel more convenient to search the products they want because the
electronic shop-front is open 24 hours a day, to the entire world. The overheads are lower, with no investment in physical infrastructure. Besides that, the online
system also can help the company to manage the information or record inside the company more effectively and efficiently. The methodology chooses to use to develop the online system comprises a sequence from one phase to the next involving together four phases. The phases are system analysis, system design, system development and the system testing. System analysis is the process of gathering information about the current system and the user requirements and analysis the information. System design decides how to build the new system. In the system development phase, the software and programming language use to develop the system. Finally the system will be
tested in the system testing phase before fully implemented.
Actions (login required)