Hafizatul Husnaini, Omar (2011) Assessing Ergonomics Workplace Design in Enhancing Employee's Productivity. Masters thesis, Universiti Utara Malaysia.
PDF




Hafizatul_Husnaini_Omar.pdf


Restricted to Registered users only
Download (839kB)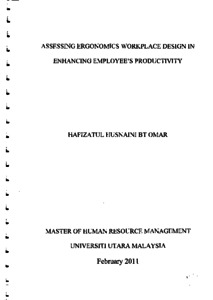 Preview
PDF




1.Hafizatul_Husnaini_Omar.pdf


Download (133kB) | Preview
Abstract
The main objective of this study is to determine the relationship between ergonomics workplace design which is furniture, noise, lighting, temperature and spatial arrangement against employee's productivity. The data is collected from 41 staff of two universities' library which is Universiti Malaysia Terengganu (UMT) and Universiti Utara Malaysia (UUM). The data is analyzed using Correlation. Result shows that there is a significant
relationship between furniture and employee's productivity whereas for the other four independent variables which are noise, lighting, temperature and spatial arrangement, there is no significant relationship between them and employee's productivity. It shows that for library staff, only furniture influences their productivity in the workplace while the other ergonomics factors do not influence their productivity.
Actions (login required)