Mohd Farid, Ibrahim (2011) The Influence of Job Related Stresses on Job Satisfaction: A Study Among the Electronic Industry. Masters thesis, Universiti Utara Malaysia.
PDF




Mohd_Farid_Ibrahim.pdf


Restricted to Registered users only
Download (475kB)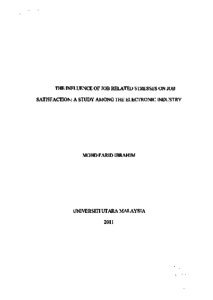 Preview
PDF




1.Mohd_Farid_Ibrahim.pdf


Download (142kB) | Preview
Abstract
The purpose of this study is to examine and gain a better understanding of the drivers in the job related stresses that influence the employee job satisfaction in Electronic Industry. This study was done among 113 employees regardless their position, length of service, and work nature in the company. Data were gathered through questionnaires and was being analyzed by using Statistical Package for Social Science (SPSS) version 12. Throughout the statistical analysis - correlation analysis, it is found that there is a significant relationship between the independent variables namely Jobs related stresses with the dependent variables - Job satisfaction. Among all the subs independent variable, work organization stress is found to be the most independent variable in driving the job satisfaction in electronic company.
Actions (login required)