Hamad, Hocine Boughezala (2010) Board Characteristics and Earnings Management: An Empirical Evidence from Malaysian Listed Companies. Masters thesis, Universiti Utara Malaysia.
PDF




Hocine_Boughezala_Hamad.pdf


Restricted to Registered users only
Download (814kB) | Request a copy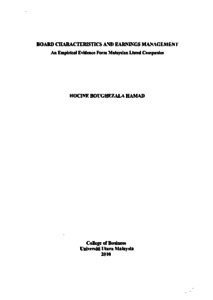 Preview
PDF




1.Hocine_Boughezala_Hamad.pdf


Download (159kB) | Preview
Abstract
This thesis investigates the relationship between board's characteristics and earning management on the companies listed on Bursa Malaysia's main board, which examine roles of independence board, outside directors, CEO duality and management ownership in constraining the earnings management activities. In general, the study contributes to
the literature by testing the issue of boards and investigates major board characteristics are related to earnings management by the firm, and it aims to provide empirical evidence according to regulatory and business environments in Malaysia. Hence, I have used data of eighty one firms from major sectors are available in bursa Malaysia, as below: industrial products, properties, plantation, hotels, consumer products, trade & services,
technology, and construction sector. In addition, the time of period covered for this study in 2009 within Bursa Malaysia. This study finds a negative significant result of board independence, CEO duality, and outside directors to earnings management, results also indicates that ownership management has positive relationship to earning management.
This indicates that the more manager own companies, that excessive shareholding more than 25% by managers may induce managers to manage earnings. While the matter of combined CEO and Chairman (CEO duality) is not effective to earnings management practice in Malaysia firms. board composition (outside directors) is not common in Malaysia firms as results indicate that have some companies haven't any outside director in their board directors, as suggested by the Cod of corporate governance in Malaysia is not satisfactory to monitor the management from earnings quality.
Actions (login required)