Ilya Shazwina, Shaharuddin (2011) The Effects of Gender and Working Hours and Length of Service on Occupational Stress in Four Stars Hotels in Lembah Klang District. Masters thesis, Universiti Utara Malaysia.
PDF




Ilya_Shazwina_Shaharuddin.pdf


Restricted to Registered users only
Download (851kB)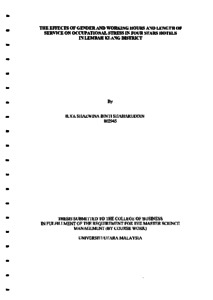 Preview
PDF




1.Ilya_Shazwina_Shaharuddin.pdf


Download (157kB) | Preview
Abstract
This study seeks to determine the effect of occupational stress, gender, and working hour on productivity among employees in hotel industries around Lembah Klang District. The three hotels that have been chosen to be survey are Swiss Garden Hotel and Residences Kuala Lumpur, The Royale Bintang Hotel Kuala Lumpur, and Concorde Hotel Kuala Lumpur. Each Hotel is known with 4 stars Hotels. There where 120 questionnaires have been distributed but only 95 questionnaires can be uses in this survey due to some were
not fully answered. The questionnaire was used to determine socio-demographic background, working information and stress factors. There were three finding/hypothesis need to be search which is on Hypothesis 1: Those individuals that work 46 hours or more per week will have significantly higher occupational stress than those that work less than 46 hours per week. Hypothesis 2: Women will have significantly higher levels of occupational stress than men and Hypothesis 3: Long service staff tends to experience
less number of occupational stress compared to short/new serving staff. The most dominant factors of occupational stress among Hotels employees are hours of work. It shows that hours of works is the main factor in causing occupational stress among the Hotel employees.
Actions (login required)