Oyuke, Lightness Duncan (2011) The Perception of Tanzanian Higher Learning Institution's Community on Open Source Software Adoption. Masters thesis, Universiti Utara Malaysia.
PDF




Lightness_Duncan_Oyuke.pdf


Restricted to Registered users only
Download (891kB) | Request a copy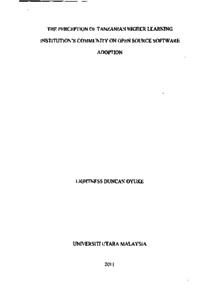 Preview
PDF




1.Lightness_Duncan_Oyuke.pdf


Download (239kB) | Preview
Abstract
This project focused on finding out the perception of Tanzanian higher learning institution's community on open source software adoption. It is an attempt to reduce the current problem of pirated software in use by a number of users who cannot afford purchasing a genuine copy of proprietary software such as Microsoft products. A quantitative research was adopted to test the relationship between independent variables: Top management support, cost saving, compatibility, continuity & flexibility technical support and IS community's perception and dependent variable: Open source software adoption. A questionnaire survey was conducted to collect data from three Tanzanian higher learning institutions. Various factors of open source
software adoption including IS community's perception and opportunities of open source software to higher learning institutions was examined in this study. An analysis was
performed using the SPSS package to which the subsequent result of the correlations shows significant relationship between all independent variables and dependent variables, multiple regressions was also conducted. Three independent variables: Continuity & flexibility, top management support and cost saving had strong influence to the study while compatibility, technical support and IS community's perception had weak influence. Finally discussion, recommendation and conclusion were made.
Actions (login required)