Nurull Azura, Arifin (2011) Developing Small and Medium Enterprise (SME) Business Portal Based on Information Strategy Planning (ISP). Masters thesis, Universiti Utara Malaysia.
PDF




Nurull_Azura_Ariffin.pdf


Restricted to Registered users only
Download (1MB)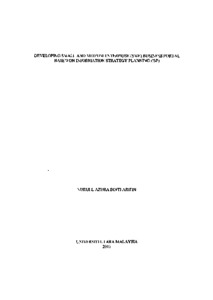 Preview
PDF




1.Nurull_Azura_Ariffin.pdf


Download (213kB) | Preview
Abstract
The focus of this study is to develop a prototype of web portal known as Developing Small Medium Enterprise (SME) business Portal based on information strategy planning(ISP). The main objective of this study is to purpose knowledge and resources to assist the entrepreneur involved in small medium enterprise (SME) business, which is information strategy planning will be implement in this study. The portal for SME business approach is to stimulate the SME entrepreneur in business performance with strategy planning provides the direction and justification for a successful business. The Strategic view of business process and knowledge development methodology is used in this study, there are two phases in the method of Strategic view of business process and knowledge of: strategic planning
phase and the operational planning methods phase. It will starts with planning, requirement analysis and at the end of this study, a Portal for SME business prototype will be designed and developed based on the user requirement. Conclusion and finding in future also will be discussed.
Actions (login required)