Shahrul Nizam, Mohd Zain (2011) Assessing the Relationship Between Factors and Strategies Used by Entrepreneur in the Internationalization of Malaysian Small Medium Enterprises (SMEs). Masters thesis, Universiti Utara Malaysia.
PDF




Shahrul_Nizam_Mohd_Zain.pdf


Restricted to Registered users only
Download (1MB) | Request a copy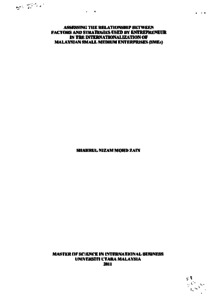 Preview
PDF




1.Shahrul_Nizam_Mohd_Zain.pdf


Download (373kB) | Preview
Abstract
This dissertation investigates the relationship between influential factors and the strategy used by entrepreneur in the internationalization of SMEs in manufacturing
industries in Malaysia. Internationalization of small and medium-sized enterprises (SMEs) has been widely researched but little is known of how and why internationalization takes place in developing countries and this lack of evidence in the literature provides strong grounds for this study. Investigation on internationalization in this study focused on the three main internationalization theories which are Uppsala Model, Network Theory and International Entrepreneurship Theory. These perspectives examine the influential factors relevant to SMEs internationalization upon the strategy used by entrepreneur including the mode of
foreign market entry and market selections were investigate. A quantitative approach were employed in this study where 250 Malaysian-based CEOs and/or key executives from SME manufacturing industries using a survey questionnaire as well as some basic statistical analyses were conducted. Result shows that, there is a significant relationship between entrepreneurial orientations with strategies used by entrepreneur in the internationalization of Malaysian SMEs while psychic distance & market orientations and network relationships does not influence strategies used by entrepreneur.
Actions (login required)