Ghanem, Hasan Omar Awadh (2011) The Effect of Corporate Governance and Firm's Characteristics on Internet Financial Reporting by Omani Listed Companies. Masters thesis, Universiti Utara Malaysia.
PDF




Hasan_Omar_Awadh_Ghanem.pdf


Restricted to Registered users only
Download (735kB) | Request a copy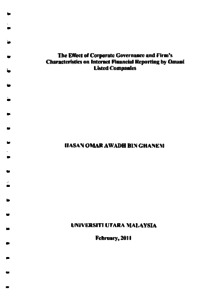 Preview
PDF




1.Hasan_Omar_Awadh_Ghanem.pdf


Download (230kB) | Preview
Abstract
The purpose of this study is to investigate whether the voluntary financial information through the internet can be explained by the same determinants in conventional reporting. For this purpose, this study uses corporate governance and firm characteristics' variables to examine the influence on internet financial reporting (IFR) disclosure. Empirical evidence supporting this examination has been gathered from a sample of 120 Omani companies listed on the Muscat Securities Market(MSM). The governance factors examined are board size, proportion of independent
directors on board. And, the firm characteristics examined are fm size, profitability and leverage. Logistic regression analysis used to examine variables that affect IFR. The results of this study indicate that there is a significant positive association between board size and the proportion of independent directors on board with voluntary disclosure of IFR. Furthermore, firm size is found to have a significantly positive influence on the voluntary disclosure of IFR. The larger companies are more likely to establish a website and use it for disseminating IFR, and consequently, they obtain business benefits from setting up their own website. However, profitability and leverage are found to be statistically insignificant related to the voluntary disclosure of IFR.
Actions (login required)