Al-Smadi, Raed Walid Mohammad (2011) Relationship Between Environment, Organizational Structure, Top Management and Financial Performance: A Case of Retailer Stores of Amman, Jordan. Masters thesis, Universiti Utara Malaysia.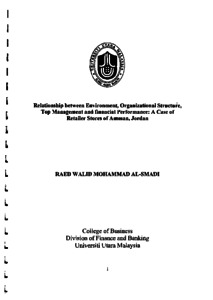 Preview
Text




Raed_Walid_Mohammad_Al-Smadi.pdf


Download (2MB) | Preview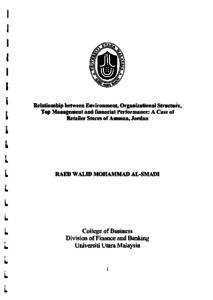 Preview
Text




1.Raed_Walid_Mohammad_Al-Smadi.pdf


Download (602kB) | Preview
Abstract
This study investigates how changes in the environment due to Jordan's market opening have affected Jordan retailing firms' strategy, top management's willingness to adapt to changing market conditions, environment, and organizational structure, and firm or financial performance. The number of respondent is 60 respondents of some stores that located in Amman and some other cities in Jordan. Through the survey research method, the questionnaire sees a complete picture of the way different things are connected, what to focus on and measure environment, organizational structure, top management and store's or financial performance of representing in used seems to look up the capacity to make things appear to be connected, making a kind of wholeness or optimum solution. Moreover, the structural equations model to test the hypotheses concerning the relationships between the research variables, and the store performance. However, we found that a positive relationships between perceived environmental uncertainty, top-management's organizational structure willingness and financial performance.
Actions (login required)