Shnaf, Adel Z. A. A. Abu (2011) Online Service Quality Evaluation for Residential Hall in Universiti Utara Malaysia. Masters thesis, Universiti Utara Malaysia.
PDF




Adel_Z._A._A._Abu_Shnaf.pdf


Restricted to Registered users only
Download (1MB) | Request a copy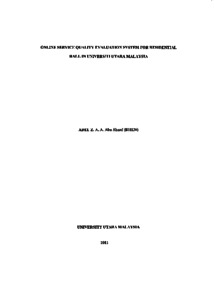 Preview
PDF




1.Adel_Z._A._A._Abu_Shnaf.pdf


Download (433kB) | Preview
Abstract
The advantages of internet services cannot be overemphasized especially in the academic environment where it is mainly used for e-learning as online services. The universities are known to provide for their students by giving them shelters, known as Student Hall of Residence. Maybank Hall of Residence officers provide many services for their occupants in the hall. However, these services are yet to be evaluated in order to know the services quality they are giving to their occupants. This project designs a requirement model and developed a prototype to
allow the Service Quality for the occupants of the Maybank Student Hall of Residence to evaluate the services using the on-line evaluation system. The result generated during the implantation phase of this project shows that the system is effective and easy to learn.
Actions (login required)