Wan Nor Al-Ashekin, Wan Husin (2011) Mobile Food Ordering System (MFOS). Masters thesis, Universiti Utara Malaysia.
PDF




Wan_Nor_Al-Ashekin_Wan_Husin.pdf


Restricted to Registered users only
Download (1MB) | Request a copy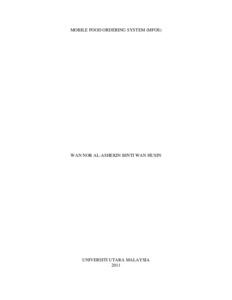 Preview
PDF




1.Wan_Nor_Al-Ashekin_Wan_Husin.pdf


Download (109kB) | Preview
Abstract
With the rapid growth of mobile technology, nowadays people are looking forward for an application that makes life easier and faster. While in restaurants industries, most
businesses people look for any mobile application that improve their business functions for the customers as well as increased the profit. Normally in manual system, human error, waiting time, wasting foods, wrong menu preparation, ordering management and menu selection are the main issues in any restaurants. This paper presents the integration of mobile technology for small medium restaurants mobile food ordering system which may solve these issues. A prototype of MFOS was developed to enable the users; administrator, manager, waiters or waitress, cashier, kitchen staffs and
customers to manage menu, manage menu category, manage position, manage user, manage bill configuration, manage menu order, manage serve order, view order, manage billing, view report for billing, report for daily ordering and report for ordering by type. This prototype implements wireless data access by the users using mobile devices such as smart phone. It is aimed to provide an effective and efficient way for the customers and the staffs of the restaurants to do the ordering process. It also saves
time, improve business management and reduce human errors.
Actions (login required)