Banalzwaa, Hamad Salmen Saeed (2011) Strategic Role of Information Technology Towards Building Competitive Advantage Study in Yemen (Southern Region). Masters thesis, Universiti Utara Malaysia.
PDF




Hamad_Salmen_Saeed_Banalzwaa.pdf


Restricted to Registered users only
Download (720kB)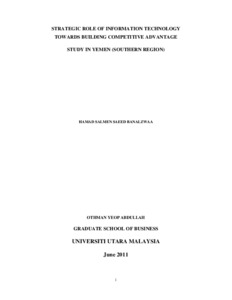 Preview
PDF




1.Hamad_Salmen_Saeed_Banalzwaa.pdf


Download (148kB) | Preview
Abstract
This study empirically examines the strategic role of information technology towards building organization's competitive advantage, in particular, the main objective of this study is to report the association of productivity efficiency, innovation, customer-supplier relationship, and database marketing with organization's competitive advantage. This study is a summary-based investigation focusing on southern region of Yemen. The sample of this study compromises of 130 usable questionnaires. The findings of this study indicate that there is positive relationship between information technology and competitive advantage. This address problems and barriers encountered in the application of information technology as medium to build competitive advantage among organizations in Yemen (Southern Region). It is certainly enables scholars and practitioners to make better decision.
Actions (login required)