Zaid, Mat Yusop (2011) A Study of Student Satisfaction in Relation to Non Academic Staff Behaviour in UiTM Pahang (Jengka Campus). Masters thesis, Universiti Utara Malaysia.
PDF




Zaid_Mat_Yusop.pdf


Restricted to Registered users only
Download (595kB)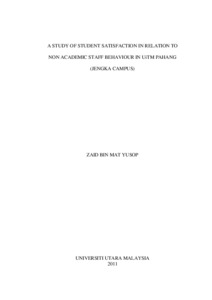 Preview
PDF




1.Zaid_Mat_Yusop.pdf


Download (308kB) | Preview
Abstract
The purpose of this research is to empirically determine what the behaviors of non-academic staff of UiTM that leads to students' satisfaction. The objectives of conducting this research are to identify the factors that influence students' satisfaction as regard to behavior of non academic staff, to identify the current level of students' satisfaction towards non academic staff behavior and to provide recommendations on how to make satisfied students. Researcher had identified two criteria that lead to students' satisfaction namely responsiveness and courtesy. The respondents of this research are the students from UiTM Pahang (Jengka Campus). The methods used by the researcher to analyze the data are Reliability Testing, Respondent Profile and Frequency Analysis. The result that the researcher found from this research is students are really not satisfied with responsiveness showed by non academic staff. Non academic staff must improve this attribute in order to gain students satisfaction.
Actions (login required)