Lukman, Hakim (2011) ASEAN-5 Monetary Integration: The G-PPP and Gravity Models Analysis. PhD. thesis, Universiti Utara Malaysia.
PDF




Lukman_Hakim.pdf


Restricted to Registered users only
Download (2MB)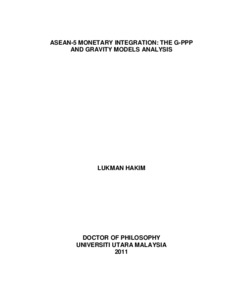 Preview
PDF




1.Lukman_Hakim.pdf


Download (876kB) | Preview
Abstract
Economic integration has become an important issue for ASEAN countries. ASEAN Charter was formed in 2008 as the basis of the implementation of the ASEAN free trade area in 2015. This leads to the readiness of the ASEAN 5 to implement economic integration. According to the optimum currency area (OCA) theory, the economic integration does not ignore the similarity of monetary transmission mechanism and financial market performance. This thesis assesses the implementation of economic integration in ASEAN 5 especially viewed from the point of the monetary transmission mechanism and financial market performance. There are four objectives of this thesis, (1) evaluating the feasibility of ASEAN 5 countries to implement the optimum currency area using generalized purchasing power parity (G-PPP) model, (2) estimating the monetary transmission mechanism pattern on ASEAN 5 countries using monetary condition index (MCI), (3) estimating the financial market performance pattern on ASEAN 5 countries using the financial condition index (FCI), and (4) analyzing the effect of monetary transmission mechanism (MCI) and financial market performance (FCI) on ASEAN 5 economic integration using gravity model. Several techniques are employed in the analysis. Johansen cointegration techniques are used to estimate the G-PPP model. The results show that the G-PPP hold, which means that the OCA can be applied in ASEAN 5. Vector Error Correction Model (VECM) is employed to determine the weights of MCI and FCI. The MCI explores interest rate and exchange rate channels on monetary transmission. The result exhibits that Indonesia and Thailand have similar pattern of monetary transmission with the interest rate exerts stronger influence than the exchange rate channel. While in Malaysia, Philippines and Singapore the effect of exchange rate is more dominance than interest rate. The FCI explores money, exchange rate, credit, and stock market. The results show that Thailand, Indonesia and Malaysia have similar pattern of financial market condition with foreign exchange rate market exert stronger influence than the other markets. In the Philippines the money market is more dominance than other markets, while Singapore is dominated by credit and stock market. Static and dynamic panel data analyses are employed in the gravity model. The Gravity model explores the international trading relationships among countries. The core properties of gravity model are export, GDP, GDP/capita and inter countries distance. Dummy variables represent common language, land border, and augmented the indexed variables which consist of MCI and FCI. The results indicate that MCI and FCI could support the possibility of ASEAN 5 economic integration. The finding is in accordance with the theory that states if the OCA is adopted, then the monetary policy will be ineffective. Instead, financial condition will support economic integration.
Actions (login required)