Haida, Mamat (2011) Relationship Between Information Technology Benefits, Attitude and Effectiveness on Employers Needs on Accounting Information System Programs (AIS): A Case From Hatyai Songkhla Province, Thailand. Masters thesis, Universiti Utara Malaysia.
PDF




Haida_Mamat.pdf


Restricted to Registered users only
Download (1MB)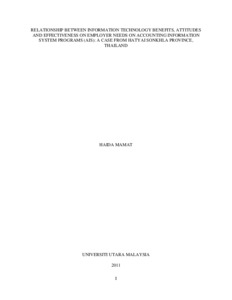 Preview
PDF




1.Haida_Mamat.pdf


Download (1MB) | Preview
Abstract
This study was conducted to explore the relationship of employer needs accounting information system programs (AIS) and company behavior among the company in Hatyai Songkhla Province, Thailand. Company's behavior and employer needs AIS programs were treated as independent and dependent variables respectively. Company's behavior measured with respect to IT benefits, Attitudes and AIS effectiveness. Employer needs AIS programs were measured with the perception of the quality of information by users. A total of 203 respondents from the population of 24 companies participated in this study. Data was collected through the distribution of questionnaire, which was designed to measure the companies behavior with a statement on a five liker scale point, ranging from one (strongly disagree) to five (Strongly agree). Three hypotheses were tested for this study. Data was analyzed using the SPSS software to obtain the frequencies, means, medium, standard, deviation and correlations between variables. The results show that three independent have positive relationship with employer needs AIS Programs.
Actions (login required)