Qahromonovich, Hudayorov Nurbek (2011) A Study on Adoption on SMS Banking Technology Among Customers in Uzbekistan. Masters thesis, Universiti Utara Malaysia.
PDF




Hudayorov_Nurbek_Qahromonovich.pdf


Restricted to Registered users only
Download (2MB) | Request a copy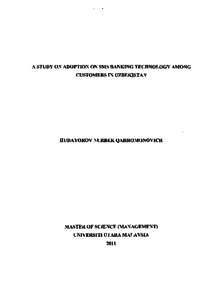 Preview
PDF




1.Hudayorov_Nurbek_Qahromonovich.pdf


Download (422kB) | Preview
Abstract
Banking has always been a highly information intensive activity particularly over the past few decades, information technology affected the banking sector is strong. The emergence of SMS banking has changed the nature of financial services to clients. One of the most growing phenomena in the financial services industry is an internet banking service. The purpose of this study is to Explorer adoption of SMS banking to customers of Uzbekistan, Central Asia emerging economies in the region. The present study modifies the model of technology adoption and applies it to the customers of the bank in Uzbekistan. Providing SMS banking services, banks can obtain significant cost reductions, reducing their branch networks and increase efficiency. But because customers do not adopt and use these services, banks cannot profit from them. Number of banks in Uzbekistan has recently started offering Internet banking services to its clients, but actually it does not get a respectable response from the point of view of people. The factors of perceived innovation attributes and personal characteristics of adopters have been developed to identify the most factors that influence SMS banking adoption among customers of Uzbekistan. The result of this study was to promote were positively associated with the adoption of SMS banking have assumed. Positive relationship between the combination between all the independent variables (ease of use, usefulness, reliability, compatibility and observability) was supported.
Actions (login required)