Zuriani, Ahmad Zukarnain (2011) A Framework for Ethical Usage of ICT Services at Cyber Cafe Using Theory of Planned Behavior. PhD. thesis, Universiti Utara Malaysia.
PDF




Zuriani_Ahmad_Zukarnain.pdf


Restricted to Registered users only
Download (7MB)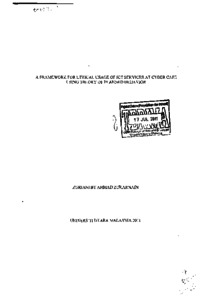 Preview
PDF




1.Zuriani_Ahmad_Zukarnain.pdf


Download (949kB) | Preview
Abstract
Cyber cafes play an important role in providing computer facilities and Internet access besides improving ICT literacy among the communities in Malaysia, especially to those who do not have computer at home. Though the establishments of cyber cafe bring various advantages particularly from the business and the academic views, it also contributes to ethical problems regarding ICT services usage. The ultimate aim of the study is to develop a framework for an ethical usage of ICT services at cyber cafe. This study used quantitative and case study research approaches, where the first part involved a survey method to determine the variables that influence the user's behavioral intention on unethical usage of ICT services at cyber cafe. The units of analysis are cyber cafe operators, cyber cafe users, regulatory bodies, parents and community. The second part used a case study approach to further examine the effectiveness of the control mechanism through the implementation of monitoring software. This study used Theory of Planned Behavior as the theoretical framework of the study. In order to examine the behavioral intention of cyber cafe users, an additional variable known as external factor has been added in the conceptual framework of this study. The result of this study found that attitude, subjective norms, perceived behavioral control and external factors have a significant relationship with behavioral
intention of cyber cafe users. Experience, individual rights, peers, teachers, close friends, CC TV, lighting in the cyber cafe and noise in the cyber cafe are proven to have influenced behavioral intention of cyber cafe users to perform their actions. Based on the findings, a framework for an ethical usage of ICT services was developed. This framework could be used by cyber cafe operators, authorities, and policy makers in planning and implementing any strategies and policies for cyber cafe operation in Malaysia.
Actions (login required)