Harjeet, Singh (2001) Framework For Selangor State Government Towards Electronic Government. Masters thesis, Universiti Utara Malaysia.
PDF




Harjeet_Singh,_2001.pdf


Restricted to Registered users only
Download (4MB) | Request a copy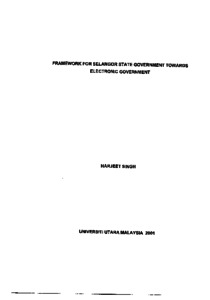 Preview
PDF




1.Harjeet_Singh,_2001.pdf


Download (456kB) | Preview
Abstract
The purpose of this study is to develop a framework for the Selangor State Government towards achieving electronic government (EG). This is due to the fact that the Multimedia Super Corridor (MSC) is strategically located in the Selangor, and it is crucial for the state government to fully support the aspirations of the Federal Government in ensuring the success of EG in the public sector. Therefore, a framework for the Selangor State Government to achieve electronic government will be a reference for all the relevant departments in the state. The time is now ripe for the Selangor State Government to internalize the EG concept and to take proactive actions towards implementing EG in the state machinery. The scope of this study is confined to government departments that are located at Bangunan Sultan Salahuddin Abdul Aziz Shah (SSAAS), Shah Alam and District Offices. The local authorities, such as municipal and district councils,
would not be covered in this study. The methods undertaken by this study are preliminary investigation, analysis,
and design and developing the framework. In order to collect data (primary and secondary) for this paper, the following methods were used: document review, research, observations, and discussions with the officers of the Selangor State Computer Centre. From the analysis conducted, this paper was able to propose a framework for the Selangor State Government that covers: application systems, portal, lnformation and Communication Technology department, Chief lnformation Officer, network, users, and security. As a result, this framework provides a guide for the effective management of information technology by the Selangor State Government. The primary role of information technology is to support the business objectives of the Selangor State Government and facilitate government departments efforts to provide efficient and effective services to the people of Selangor and those who need its
services. Selangor, as the leading state in Malaysia, should therefore play a significant role towards successfully implementing the EG concept. Since technology will continue to advance rapidly, the Selangor State Government must face the challenges of electronic government to thrive in the 21st century.
Actions (login required)