Shariffah Nur Bahijah, Syed Mahmood (2011) Gaya Pengurusan Konflik di Kalangan Pelajar Sekolah Ma'ahad Tahfiz Manhal HPA. Masters thesis, Universiti Utara Malaysia.
PDF




Shariffah_Nur_Bahijah_Syed_Mahmood.pdf


Restricted to Registered users only
Download (645kB)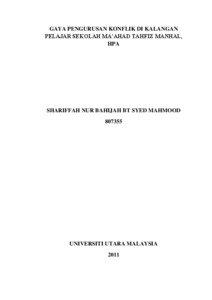 Preview
PDF




1.Shariffah_Nur_Bahijah_Syed_Mahmood.pdf


Download (302kB) | Preview
Abstract
This study carried out in Ma'had Tahfiz Manhal, HPA, Sungai Petani which it aim to identify several aspects related to conflict management especially from aspect factors which influenced occurrence of conflict among students. Apart from that, study also done to identify conflict management style that practiced by school students that studied. Effective conflict management style among students is very important because inappropriate conflict management style for a conflict situation can be carried over into work practice to negatively impact work quality and productivity. Out of 120 questionnaires distributed, only 100 respondents returned the questionnaires. The data was analyzed using "Statistical Package for Social Science" (SPSS) version 16. Through descriptive analysis and T-test analysis, researcher find out all five factors that listed does not affect conflict management style. Based on information which found, this show students in Ma'ahad Tahfiz Manhal can handle every conflict which occurred without influenced by other factors.
Actions (login required)