Fauzan, Radhy (2011) Emotional Intelligence as a Factor Influencing Sales Persons Performance in Indonesia. Masters thesis, Universiti Utara Malaysia.
PDF




Radhy_Fauzan.pdf


Restricted to Registered users only
Download (1MB) | Request a copy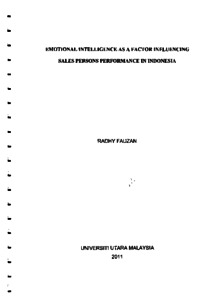 Preview
PDF




1.Radhy_Fauzan.pdf


Download (399kB) | Preview
Abstract
This study discusses mainly about factor influencing sales performance especially in medical organization. This study aims to develop an understanding of the role of Emotional Intelligence in the work place setting especially in the business environment. Ninety three questionnaires were returned to which descriptive statistics was used to verify the demographic variables of the participants. Pearson correlation was conducted on the independent variable which is (emotional intelligence) and dependent variables (sale performance). The results revealed that there was a significant relationship between emotional intelligence and sale persons' performance. Therefore, the result of this study contributed to need for developing training intervention based on emotional intelligence model, and finally more recommendations were also being discussed.
Actions (login required)