Shukur, Ban Salman (2012) Community Sponsorship System. Masters thesis, Universiti Utara Malaysia.
Text




Ban_Salman_Shukur.pdf


Restricted to Registered users only
Download (5MB) | Request a copy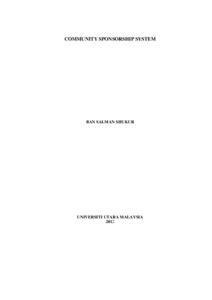 Preview
Text




Ban_Salman_Shukur.pdf


Download (848kB) | Preview
Abstract
In spite of the progress everywhere around the world, many children are still unable to have their basic rights of living. Child welfare services are concerned with helping vulnerable children by supporting their families and preventing problems by intervention services and tools that involve various resources. Information and Communication Technology (ICT) has a powerful capacity to transmit and deliver information besides controlling the communication. Community Sponsorship System for vulnerable children is suggested in this project by employing a Client Information System (CIS) that seeks ways to manipulate data processed by the CIS in order to assure the needs of vulnerable children and available services / resources are relevantly matched.
Actions (login required)