Al-Khasawneh, Mohammad Mansour Fawwaz (2012) Adoption of Information and Communication Technology in Teaching and Learning Environment in Jordanian Higher Education. PhD. thesis, Universiti Utara Malaysia.
PDF




Mohammad_Mansour_Fawwaz_Al-Khasawneh.pdf


Restricted to Registered users only
Download (5MB)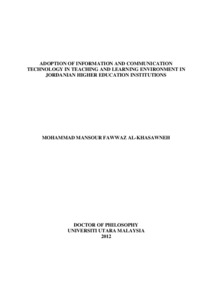 Preview
PDF




Mohammad_Mansour_Fawwaz_Al-Khasawneh.pdf


Download (2MB) | Preview
Abstract
Information and Communication Technology (ICT) plays an important role in modern institutions by facilitating and improving the teaching and learning process to be in line with the information technology age. Jordan, as one of the developing countries, highly values the importance of Higher Education Institutions (HEIs) and their role in achieving an economic prosperity through the development of human resources. Unfortunately, the adoption and usage of ICT in teaching and learning process is quite low among the academic staff in the public HEIs in Jordan. The main purpose of this study is to examine the potential prominent factors related to the adoption and usage of ICT in Jordanian HEIs among the academicians. The study provides an understanding on the ICT usage by applying the Diffusion of Innovation theory, Theory of Planned Behavior and the Decomposed Theory of Planned Behavior. A self-administered survey was conducted on 500 academic staff selected from public HEIs in Jordan. A total of 415 participants (83%) responded to the questionnaires. The findings showed that subjective norms, attitude towards technology, and perceived behavioral control positively affected the behavioral intention to use ICT in HEIs among academicians. The study provides recommendations to the higher education leaders and policy makers towards promoting a successful adoption and diffusion of technologies in the future. Besides, it offers a clear description about the adoption in the field of educational technologies in the context of developing countries and the Arab world in particular.
Actions (login required)