Mohd Zakir, Ibrahim (2012) A Case Study of Safety Behavior in the Construction Site. Masters thesis, Universiti Utara Malaysia.
Text




Mohd_Zakir_Ibrahim.pdf


Restricted to Registered users only
Download (1MB)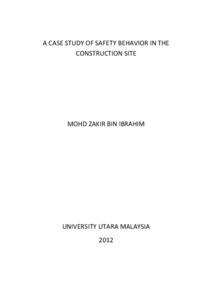 Preview
Text




Mohd_Zakir_Ibrahim.pdf


Download (945kB) | Preview
Abstract
The construction industry has been recognised as one of the hazardous industries. Although there is an improvement of the safety performance and increase in safety awareness in this industry, the accident rate is still one of the highest across all sectors. Besides causing human tragedy and economic losses, construction accidents also affect the productivity and reputation of the construction industry. The statistic of accidents at construction sites give us a picture that Malaysian construction industry is one of the critical sectors that need a huge and fast overhaul from the current site safety practices. Accident don't just happen, they caused by unsafe acts, unsafe condition or both. Previous studied shows that most of the accidents happen due to unsafe acts rather than unsafe conditions. In order to improve the overall safety performance we need to investigate the root causes of the construction accidents. The specific objectives of this study are to find out the factors of safety climate, safety training and safety motivation influences the safety behaviour. Through literature reviews, the behavior safety conceptual framework, supported by theory Planned Behavior was develop. The measurements tools were adopted from previous researchers. The target respondents were the workers at construction site and quantitative method was applied. The data were gathered from the survey were analysed using Standard Package for Social Science (SPSS 19). The response of the survey were rated according to the Likert scale type with '1' indicated strongly disagree and '5' indicated strongly agree. This study shows safety motivation, safety training and safety climate were positively and significantly related with the safety behaviour. With this finding, it was recommended that importance of taking human factors into account in safety management.
Actions (login required)