Adli, Mohd Shariff (2012) The Application of Workplace Safety Scale Among Employees of a Utility Company. Masters thesis, Universiti Utara Malaysia.
PDF




Adli_Mohd_Shariff.pdf


Restricted to Registered users only
Download (1MB)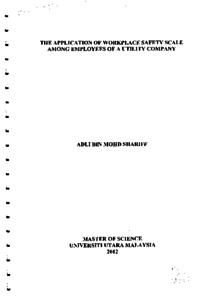 Preview
PDF




Adli_Mohd_Shariff.pdf


Download (308kB) | Preview
Abstract
This study employs Hayes's Work Safety Scale (WSS) to determine the compliance with safety behaviour among the personnel of a water supply company. Water supply is part of
the utility sector servicing the country and it is one of the most important services rendered, for in an event of water supply disruption, public uproar and outcry is
imminent. The service industry is very dependable to the talents employed due to the technological advancement in the infrastructure is very much tied and limited to the
availability of funding and willingness to invest. To ensure that the water supply service is unintempted, the workforce plying the trade should be ensured their safety is
safeguarded against unwanted accident to ensure continuous service at an optimum level. It was found that the three (3) factors from the five facets of the WSS is significant to this sample settings and positively related to the compliance with safety behaviour (CSB), and they are the job safety, management safety and safety program.
Actions (login required)