Mohd Noor, Zamri (2012) Kepuasan Kerja dan Burnout Satu Kajian di FirstSolar (M) Sdn Bhd. Masters thesis, Universiti Utara Malaysia.
Text




ZAMRI_MOHD_NOOR.pdf


Restricted to Registered users only
Download (3MB)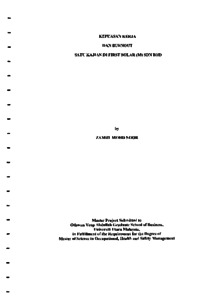 Preview
Text




ZAMRI_MOHD_NOOR.pdf


Download (562kB) | Preview
Abstract
This study evaluates work satisfaction level and burnout for workers in M2 First Solar (M) Sdn Bhd. The study also assessed the relationship between job satisfaction factors and burnout, and also identified important factors which influenced levels of satisfaction and monitor which job satisfaction factors that can cause the burnout. Respondent consisting of 90 shift workers in M2 First Solar (M) Sdn. Bhd. Data were processed collectively by using "Statistical Packages for Social Sciences"
(SPSS ver. 20). Data were gathered by using the combination of research tools of Job Descriptive Index (JDI) and Maslach Burnout Inventory (MBI) questionnaires 'The data were processed as a collective data and the statistical techniques used were as percentage, cross tabulation and Pearson correlation in determining the outcome for the questions built. Research showed overall workers at in terms of moderate level of job satisfaction and burnout. It was also observed that there was no
significant relationship between burnout with job satisfaction among employee at M2 First Solar (M) Sdn. Bhd. Overall, inference analysis also did not show significant difference between demographic features on burnout (depersonalization. emotion barrenness and personal achievement) except from gender perspective. As a conclusion, the burnout factor and job satisfaction are very essential for every working individual especially the First Solar (M) Sdn. Bhd. workers because
employees that are satistied with the work would become more productive and will be more committed towards their work.
Actions (login required)