Konsoh @ John Konsoh, Sangau (2012) Understanding the Determinants of Industrial Radiographer Compliance with Safety Behavior in Malaysia. Masters thesis, Universiti Utara Malaysia.
Text




KONSOH_@_JOHN_KONSON_SANGAU.pdf


Restricted to Registered users only
Download (2MB)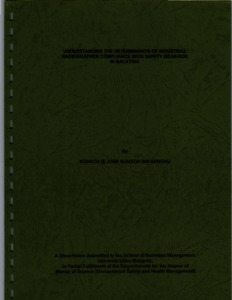 Preview
Text




konsoh.pdf


Download (963kB) | Preview
Abstract
Problems related to compliance with safety in the workplace are one of the issues that has long been debated and studied by many researchers in the social sciences worldwide. The present study conducted by the author is to understand the perception of radiation workers, better known as industrial radiographer working in the field of industrial radiography in Malaysia to compliance with safety behavior. This study adapted the five independent variables in the Work Safety Scale (WSS), which was developed by Hayes et al.(1998) namely job safety, coworker safety, supervisor safety,
management safety and safety program and policies as well as a dependent variable, compliance with safe behavior. The questionnaires were distributed to 226 industrial radiographers working in 25 industrial radiography companies in the Klang Valley region of Malaysia. The responses received were 46.6% and were analyzed using the SPSS software version 17.0.Analysis carried out, included reliability, descriptive sampling, descriptive variables, correlation and regression. The results showed that the job safety,the supervisor safety and the safety program and policies provide a significant relationship to compliance with safety behavior among industrial radiographer. Safety program and policies illustrate the strongest relationship (p = .754), followed by supervisor safety (p = .180) and job safety ((3 = .179).
Actions (login required)