Kam, Boon Lai (2011) Beban Kerja, Tekanan Kerja dan Prestasi Kerja dalam Kalangan Juruteknologi Makmal Perubatan Hospital Kerajaan. Masters thesis, Universiti Utara Malaysia.
PDF




KAM_BOON_LAI.pdf


Restricted to Registered users only
Download (1MB)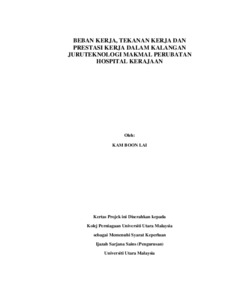 Preview
PDF




1.KAM_BOON_LAI.pdf


Download (504kB) | Preview
Abstract
This study investigates job performance of medical laboratory technologists. Workload was considered as the independent variable, job stress as the mediating variable while job performance as the dependent variable.A survey of 153 medical laboratory technologists working in Pathology Department in Hospital Kuala Lumpur was conducted. Regression analyses run show that job stress has a partial mediating effect on workload and job performance. The implications of the findings to practice and future research, and the limitations of the study are discussed.
Actions (login required)