Teh, Wooi Teik (2012) Cognitive Biases in Decision Making: Maximizing Utility or Minimizing the Effort? Masters thesis, Universiti Utara Malaysia.
Text




TEH_WOOI_TEIK.pdf


Restricted to Registered users only
Download (743kB)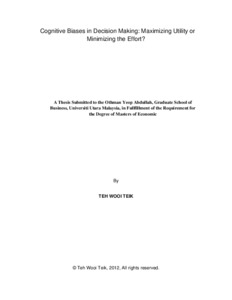 Preview
Text




TEH_WOOI_TEIK.pdf


Download (390kB) | Preview
Abstract
This study examines cognitive biases in human decision-making. Three research objectives are investigated in the study: (i) identifying cognitive biases before the process of decision-making by individuals, (ii) identifying cognitive biases after the process of decision-making by individual and, (iii) suggest solution or de-biases method for an ideal condition in decision-making. The goal of this study is to understand various tendency biases in judgment and decision making and tries to suggest particular solution in order to achieve the ideal condition in decision making. Most of the findings in this study are developed from the theory of economic behavior and experimental-economics. The research highlighted the inadequacy of an economic theory which is, in reality people go for the minimization of effort rather than the standard assumption that every decision depends on the pursuit of "utility maximization". In addition the study offers certain explanation concerning the boundaries assumption of rational-agent of economic theory and why it has been prevailed in the past decade.
Actions (login required)