Tan, Jessica Ming Kwan (2001) Simulation For Performance Of Container Operations In The Yard Of Westport Klang. Masters thesis, Universiti Utara Malaysia.
PDF




Jessica_Tan_Ming_Kwan,_2001.pdf


Restricted to Registered users only
Download (10MB)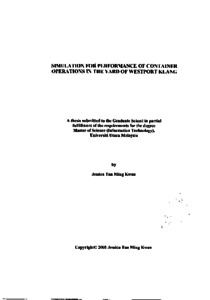 Preview
PDF




1.Jessica_Tan_Ming_Kwan,_2001.pdf


Download (773kB) | Preview
Abstract
Seaports and container terminal operation is one of the most important assets for a country because it can contribute income to develop a country. Furthermore, it can
help to make a country well known in a world because trading with other country throughports. The performance of the container terminal operation is very important. As we know that the container operation is a very complex and dynamic system. This is because each operation requires different resources and equipment assigned to it. Therefore the efficiency in the assigning and utilization of this equipment and resources will determine the performance of container terminal operation. In this research, simulation and modeling is used to study the
performance of the container terminal operation in Westport, Klang because simulation and modeling is the best tool to study dynamic and complex operations.
Furthermore, it will reduce the cost of the company because the users can use the simulation model to do some experimentation before real implementation. The simulation software, which is used in this study is called Arena Simulation Software. The container operation in Westport, Klang will be model in this software. This model will measure the performance of this port from the aspect of utilization and the busiest of the prime movers and Rubber Tyre Gantrys in the yard. Furthermore, this model can do a lot of experimentation or 'What-If' analysis so that the users can test it before real implementation is done. Therefore, this model will reduced the cost of the company.
Actions (login required)