Aziz, Mohammed Aziz (2012) Strategic Role of Strategic Management Accounting Towards Enhancing SMEs Performance in Iraq. Masters thesis, Universiti Utara Malaysia.
PDF




AZIZ_MOHAMMED_AZIZ.pdf


Restricted to Registered users only
Download (452kB)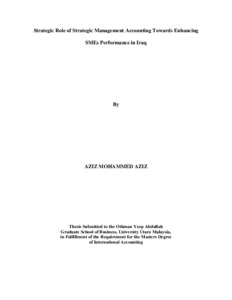 Preview
PDF




AZIZ_MOHAMMED_AZIZ.pdf


Download (69kB) | Preview
Abstract
The concept of strategic management accounting is related to the provisions and use of accounting information by people in the organization such as the management and the managers, for the purpose of making business decisions that would allow them to have competitive advantage and able to effectively control the firm's activity. The major purpose of this study is to investigate strategic role of strategic management accounting towards enhancing SMEs' performance in Iraq. The study generated data from 101 SMEs in Iraq through a cross-sectional questionnaire survey approach using drop and pick means of data distribution. The findings from the hypotheses tested show that factors such as : information, people and government policy are key factors impacting SMEs' performance. This further suggests that these factors are crucial in enhancing SMEs performance. However, the findings also show that technology does not affect the SMEs' performance. The same finding occurred on the relationship between strategic management accounting and SMEs performance. However, these results should be interpreted with caution bearing in mind the environment upon which this study was conducted.This study would be of benefit to both researchers and SMEs owners as it would provide a guideline upon which decisions regarding SMEs performance are to be made while also acting as springboard
for future research. Based on the findings obtained in this study, the study concludes that information, people and government policy are significant factors required to enhance SMEs' performance.
Actions (login required)