Marjan, Mohd Noor (2012) The Association Between IT Related Trainings and IT Investments in Malaysia. Masters thesis, Universiti Utara Malaysia.
Text




MARJAN_MOHD_NOOR.pdf


Restricted to Registered users only
Download (7MB)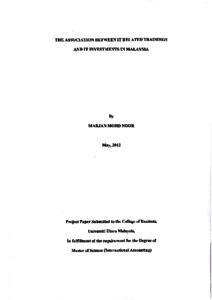 Preview
Text




MARJAN_MOHD_NOOR(1).pdf


Download (2MB) | Preview
Abstract
This study aims to examine whether there are association between IT related trainings and IT investment in the Malaysian technology based companies. This study uses two types of IT related trainings namely intermediate IT trainings, advanced IT trainings which have never been tested with IT investments in previous studies. The data were collected via annual reports in 2010 from 104 technology based companies listed in Bursa Malaysia. Univariate and multivariate such as independent sample test and linear regression were utilized to analyze the data. Results from univariate test show that IT based companies are actively involved in IT investments compared to engineering based companies. Result for intermediate IT trainings fiom linear regression shows, non significant but result for advanced IT trainings is significant but with a weak association. Thus, result for second hypothesis it is partially supported, but weak association with IT investments. From the same regression, result for third
hypothesis also can be concluded that advanced IT trainings are significant but weak association with IT investments.
Actions (login required)