Nurazah, Md Sah (2012) Differences of Perception Among Teachers on New Retirement Policy. Masters thesis, Universiti Utara Malaysia.
Text




NURAZAH_MD_SAH.pdf


Restricted to Registered users only
Download (1MB)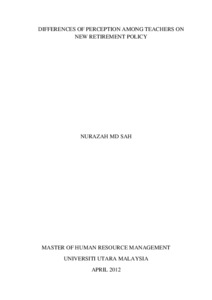 Preview
Text




NURAZAH_MD_SAH.pdf


Download (517kB) | Preview
Abstract
When CUEPACS called for Malaysian Government to increase the retirement age from 56 to 60, many believes that the bold moves provides more rooms for the teachers to have prudent financial security for the retirement preparation. However, many researches show that there are mixture feeling between those who prefer to retire early and those who do not. This paper aims to look at the association between the new retirement age policy and selected independent variables. This study involves 200 teachers from primary and secondary school at Felda Semenchu, and in Klang. Questionnaires were used to tab respondents' inputs and profiles. Our objectives are (1) to determine whether there are relationships between job performance, career advancement, financial security and job satisfaction on the new retirement policy; and (2) to examine differences of perception among the school teachers on the new retirement age policy. The findings show that there are significantly positive relationships between the new retirement policy and all tested variables job performance (r = 0.731, p < 0.05), career advancement (r = 0.603, p < 0.05), financial security (r = 0.836; p < 0.05) and job satisfaction (r = 0.715, p < 0.05). Meanwhile 65.5 % of the respondents agree that they need more ample time for their retirement saving. Discussion, limitations and suggestions for future studies are also highlighted towards the end of this project paper.
Actions (login required)