Lim, Theng Yee (2012) A Study of Malaysian Audit Market Concentration. Masters thesis, Universiti Utara Malaysia.
Text




LIM_THENG_YEE.pdf


Restricted to Registered users only
Download (1MB)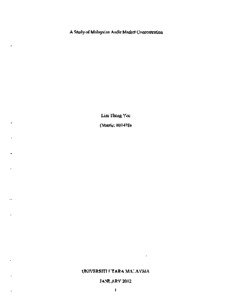 Preview
Text




LIM_THENG_YEE.pdf


Download (228kB) | Preview
Abstract
This study presents the extent and nature of audit market concentration of companies listed in KLSE in year 2008 and 2009. Given the current interest in auditor choice, this study also analyzed in detail at the individual audit firm level and by industry sector and market segments. Auditor concentration that measured in this study can use to determine current audit structure. The link between concentration measures with competitiveness is more
complex than often assumed. In this study, I only focus on concentration measures and do not make any inferences about the competitive aspect of the market. The Big Four firms held more than 80% of the market share (based on audit fees) in both years 2008 and 2009. KPMG retained its position as a 'dominant firm' while Deloitte is the 'least dominant firm' among the Big Four firms. The Big Four hold 100% share of 3 sectors (fixed line telecommunications, life insurance and tobacco) in 2008 and increase to 4 sectors (bank, exchange traded funds, life insurance and tobacco) in 2009.The main concerns of auditor concentration are reduction in audit firm choice that will lead to increase of conflict of interest and issues concerning the governance and accountability of audit firms.
Actions (login required)