Lee, Mei Ching (2001) E-Commerce Application : An Interactive And Customize Virtual New Home. Masters thesis, Universiti Utara Malaysia.
PDF




Lee_Mei_Ching,_2001.pdf


Restricted to Registered users only
Download (4MB)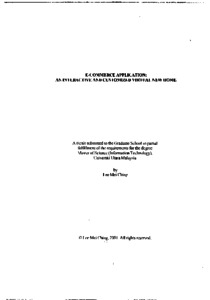 Preview
PDF




1.Lee_Mei_Ching,_2001.pdf


Download (370kB) | Preview
Abstract
The primary purpose of this research is to promote e-commerce as an effective marketing strategy to homebuilders, especially local companies in order to gain competitive advantage in selling house market. The secondary purpose of this research is to promote virtual reality home model that may be become one of the best way to reduce new home marketing cost and increase profit.
This e-commerce application, namely, virtual reality home
model is the future of new home sales tools to come along indecades. Development of this application may turn out to be a win-win preposition for both buyer and builder alike. This application has been developed using Web Page Development (WPD) methodology. Finally this research discusses some fulfillment issues and limitations that were discovered during the development of this application. Thus, some recommendations are proposed to overcome the limitation for the future research in this e-commerce application.
Actions (login required)