Wan Salmi, Wan Ramli (2012) Pengaruh Psikososial dan Tahap Pengetahuan Bahaya Dadah Terhadap Penagihan Semula dalam Kalangan Banduan Penagih Dadah Penjara Malaysia. Masters thesis, Universiti Utara Malaysia.
Text




WAN_SALMI_WAN_RAMLI.pdf


Restricted to Registered users only
Download (4MB)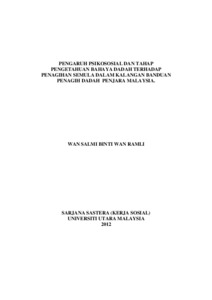 Preview
Text




WAN_SALMI_WAN_RAMLI.pdf


Download (521kB) | Preview
Abstract
This study aimed to investigate the relationship and the influence of psychosocial factors such as self-esteem, family, friends and society, and the knowledge of the dangers of drug abuse among drug addicts in prison. This study is a cross-sectional survey. A research model was based on theories of psychosocial by Chein (1984) and the results of previous studies. The study was conducted at the Alor Setar Kedah prison for 167 prisoners of drug abuse. Questionnaire which consisted of seven parts were distributed to the subjects, and the parts were on personal information, aspects of selfesteem, family influence, peer influence, community influence, knowledge of the dangers of drugs and on relapse tendency aspect. Data obtained from the questionnaires was analyzed using the Statistical Package for Social Sciences. Pearson Correlation (r) and regression analysis were used to analyze the data. Test results showed that psychosocial factors, such as aspects of self-esteem, family, friends and society and also the knowledge of dangerous drugs, had significant relationships with relapse. The result of regression analysis showed that the community influence was the most dominant variable affecting the prisoners drug addiction. These results showed that the public has a strong influence on the ex-addicts, either to continue to be involved with drugs or to accept them back to a healthier new life together with other members of the community. Society, in general should change their thinking, and have a more open attitude to the drug addicts as a new person to return to the community.
Actions (login required)