Sharifah Rosida, Syed Ali (2012) Pengaruh Faktor Peribadi, Sokongan Sosial, Tahap Kesihatan dan Agama ke Atas Warga Tua Produktif. Masters thesis, Universiti Utara Malaysia.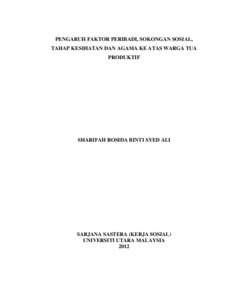 Preview
Text




SHARIFAH_ROSIDA_SYED_ALI.pdf


Download (4MB) | Preview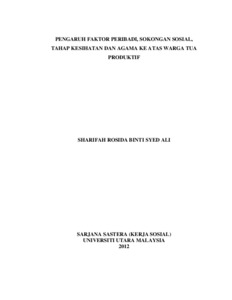 Preview
Text




SHARIFAH_ROSIDA_SYED_ALI.pdf


Download (889kB) | Preview
Abstract
This study aims to determine the level of productivity and influence of personal factors, social support, health, and religion among the productive elderly in the Dewan Undangan Negeri Pauh in the State of Perlis. A quantitative research design was employed in this study. A total of 150 respondents aged 60 years and above, were selected using simple random sampling. Data was collected using questionnaire as the research instrument that was completed through face to face interviews with the elderly. The data was analyzed using multiple linear regression. The independent variables in this study were age, education level, income, attitudes, knowledge, support from family, neighbours, friends, health and religion. The findings show that the productive level of the elderly is high. The elderly, in general were still active and productive, and able to do formal or informal work despite their age. The knowledge variable was found to have a significant influence on the productive elderly. Elderly who have knowledge of 'the productive elderly' have showed increased in productive level. Health level is another variable that influence the productive elderly. Elderly with good health are more productive. Hence, knowledge and health are two major factors that influence the elderly to be productive.
Actions (login required)