Ang , Ling Weay (2012) Online Instructional Consultation (OICON) Model for Higher Education Institution. Masters thesis, Universiti Utara Malaysia.
PDF




ANG_LING_WEAY.pdf


Restricted to Registered users only
Download (2MB)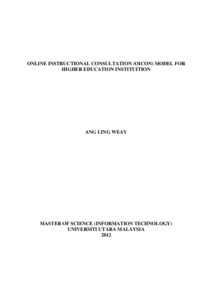 Preview
PDF




ANG_LING_WEAY-1.pdf


Download (620kB) | Preview
Abstract
The purpose of this research is to solve the problems of the existing telementoring program which are (a) the miscommunication due to lack of nonverbal cues, (b) the need or competency in written communication and technical skills, and (c) the issue regarding recording, retrieving, and playback of consultation recorded document. The main objective of this research is to develop an appropriate online consultation model for higher education institution. The specific objectives of this research are to identify suitable multimedia components to be implemented in the online instructional consultation (OICon) model, to develop a prototype, and to test and evaluate the acceptance of online instructional consultation (OICon) prototype by students and lecturers in higher education institution. OICon model was established based on the identification of multimedia communications components and features that were adapted and adopted from the existing online financial consultation, tele-medicine consultation model as well as major e-consultation components for public policy consultation. In addition, recommendations from the IT and Educationist experts were also taken into consideration. This model was then transformed into a prototype and tested on 40 students and 8 lecturers. Eleven hypotheses are derived from 7 factors of TAM with actual system variable excluded. The hypotheses relationships among these 4 factors (Perceived Usefulness (PU), Perceived Ease of Use (PEOU), Attitude, Behavioural Intention (BI) are supported except that PEOU does not have positive relationship with attitude as predicted. Perceived Importance of Communication Components and Features have positive relationship with PEOU. Users are relatively positive towards the implementation of multimedia communication tools for consultation in higher education institution. Users perceived the communication components as important if the components are easy to use. They agreed that they will use the OICon prototype in the future in term of PU and Attitude.
Actions (login required)