Chaib, M. Ala M. Ggasan (2012) Satisfaction of UUM E-Mail Service Among Academician. Masters thesis, Universiti Utara Malaysia.
Text




M._ALA_M._GGASAN_CHAIB.pdf


Restricted to Registered users only
Download (2MB)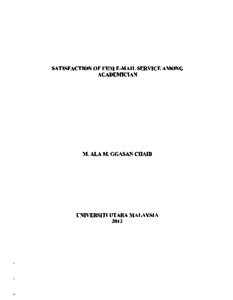 Preview
Text




M._ALA_M._GGASAN_CHAIB.pdf


Download (496kB) | Preview
Abstract
The absence of the necessary infrastructure forms a barrier to institutions providing ICT enabled information sharing. This study focuses on UUM academics satisfaction of UUM email service. The questionnaire was adopted from Doll & Torkzadah (1988) and Seddon & Kiew (1996). The data collection has been done through direct interview and email. The aim of this study is to access the degree of satisfaction email service among academics in UUM. Specifically, the objective of this study are develop a theoretical framework of UUM email service satisfaction among academics in UUM and evaluate the academics' satisfaction towards the UUM email service.The results have been analyzed using SPSS. Overall, UUM email service
satisfies UUM academician where the score is more than the average.
Actions (login required)