Hintaya, Houzifa M. Salahdeen (2012) Computational Model to Simulate Temporal Dynamics in Chronic Fatigue Syndrome. Masters thesis, Universiti Utara Malaysia.
Text




HOUZIFA_M._SALAHDEEN_HINTAYA.pdf


Restricted to Registered users only
Download (1MB)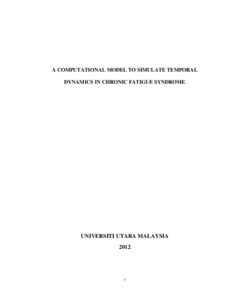 Preview
Text




HOUZIFA_M._SALAHDEEN_HINTAYA.pdf


Download (552kB) | Preview
Abstract
People who are exposed to chronic fatigue have the risk of developing physiological and psychological problems. Hence, it is essential to comprehend the development of chronic fatigue in order to support the persons with such risk. The main objective of the study was to develop a computational model for temporal dynamic change during chronic fatigue. The methodology that was used to explore human cognitive processes in chronic fatigue consisted of four phases: identification of local and non-local dynamic properties, formalization of local and non-local dynamic properties, simulation, and evaluation. This kind of model brings benefits to psychologists in terms of acquiring more insight pertaining to chronic fatigue by simulating multiple conditions on digital environments. The factors that were identified to have direct/ indirect influence on chronic fatigue syndrome were negative personality factors, periodic over-activity, low job control, psychological stressors, physiological stressors, viral infection, mental load, emotional demand, work demand, short term stress, long term stress, viral susceptibility, immune system production, immune response, short term resistance level, long term resistance level, short term exhaustion, long term exhaustion, short term fatigue, long term fatigue, and chronic fatigue syndrome. The factors were used to construct the computational model. The model was simulated by applying it to five different scenarios, healthy person (scenario #1), moderate person (scenario #2), high risk individual (scenario #3), person with lack of planning (scenario #4), and embattled personality (scenario #5). The computational model was verified using mathematical analysis. Results showed that the computational model was able to show the effect of CFS to different types of scenarios.
Actions (login required)