Alzu'bi, Sharf Khaled (2012) Business to Customer (B2C) E-Marketplace for Small and Medium Enterprise in UUM. Masters thesis, Universiti Utara Malaysia.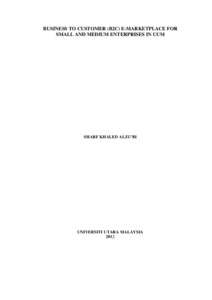 Preview
Text




SHARF_KHALED_ALZU'BI.pdf


Download (2MB) | Preview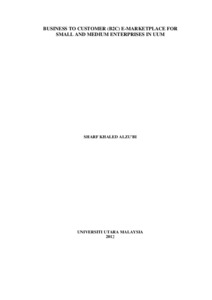 Preview
Text




SHARF_KHALED_ALZU'BI.pdf


Download (405kB) | Preview
Abstract
E-Marketplaces can provide significant value to buying and selling organizations of all sizes. They facilitate more efficient and effective trade of goods and services, and eliminate inefficiencies inherent in the trading process. The development of business to customer e-Commerce has brought significant changes in recent years in Malaysia. Malaysian businesses, Small and Medium Enterprises (SME) have been relatively slow in web adoption. In UUM there are many Small and Medium Enterprises (SME) working at the mall of university, they needs to develop a trade methods to selling product and selling effectively, awareness of the problem which arises because the understanding of the electronic environment of the interaction of SMEs with customers. Moreover, during the holiday there are no any customers, which that mean cannot maintain the business. On other side, the students find it difficult to provide the daily needs such as fresh foods and deliver without damage. This study is to develop e-Marketplace within the University Utara Malaysia (UUM) and its surroundings, the prototype was develop by using C# language, and the research design adopted the general methodology. The prototype was evaluated by use questionnaire technique based on usability testing with the System Usability Scale (SUS). The prototype was assessed by a sample consists of sixty-three respondents. The results have been positive.
Actions (login required)